Hill Air-Flex II Flexion & Distraction Table
The new AIRFLEX II features all of the ground-breaking air-powered innovations of its best-selling predecessor plus dynamic new features that place it in a class by itself–features like Target Touch™ patient balancing, Smart Lock and Sleep Mode which resets all functions between patients and an even larger air capacity. The stunning new touchscreen, with intuitive interface, is a virtual command center for the table's advanced functionality. Aiflex II is perfect for doctors who want a full-featured manual flexion and distraction chiropractic table (air-controlled) with the option of adding automatic flexion and automatic decompression (for strictly Auto-Flexion Chiropractic Table, see la HIll AFT). With patients counterbalanced on a cushion of compressed air, doctors love the Air-Flex for its amazingly responsive treatment action. There is truly no other flexion distraction table like it!
Table Air-Flex II Flexion & Distraction
Starting at 7250.00 € Excl TAX
Tilting Headpiece and Thoracic Release
Air-Controlled Flexion & Distraction w/ pressure pedal
7" HD Touchscreen
Target Touch™ delivers nearly instant flexion balancing and easy patient set-up.
Sleep Mode automatically resets and replenishes all air functions between each patient.
Removable tiller bar at foot-end
Lateral Flexion with locking mechanisms
Slide-out Ankle Support with Ankle Harnesses
Electric Height Controlled by Foot Pedal
Height range from 21 1/2" to 29" (22 1/2" to 30" upon request; Higher starting heights available)
Width 24", Medium Density Foam (Soft or Firm Foam on Request)
Table top length - 5'8" (extends to 6'5")
Choice of 20 Colors for the Top Cushions
One-year warranty on all parts (repair in return workshop)

set up your table
Click and open the sections below and choose the options you need
choose your options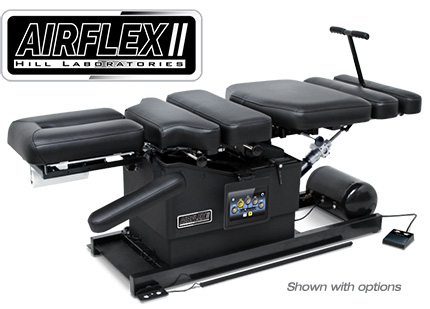 simulate your quote

* Prices shown are international shipping, import duties and customs duties included
*Prices are excluding VAT 20% effective in addition.
*The simulated price shown does not include delivery to your office.
*The indicated prices are subject to the fluctuation of the Dollar and the Euro, you must ask a confirmation of estimate and it must be sent to you.
*Order taking is subject to the terms and conditions of sale
* The additional costs linked to import costs and / or the additional costs linked to air transport will be directly attributable to the price of the goods.
Send your request, we confirm your quote delivery costs included in your office