Hill Laboratories Company Customer Testimonials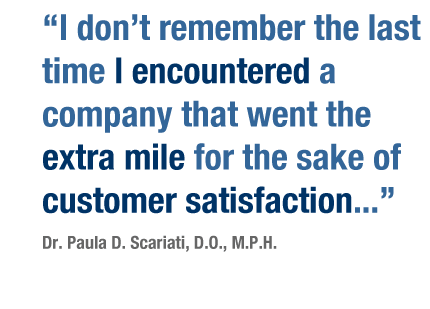 Almost four years ago I purchased a Hill Flexion table with a thoracic drop. I just wanted to take the time to tell you and the team at Hill Labs that this is by far the finest piece of equipment that I have used. The table has performed flawlessly under vigorous service and has become my adjusting table of choice.
Dr. Christopher Kane, D.C.
---
The convenience of the [Hands-Free Ultrasound] not only assists me in the efficiency of my treatments, but makes such a positive difference in the overall wellness of my patients.
Dr. Joseph Berger, D.C.
---
The Huguley Medical Center has received the podiatry chair we ordered and they are very pleased. They are very happy with the quality of the chair.
Connie Haack, Beacon Medical Specialties
---
Thanks for you continued outstanding workmanship! It is appreciated!
Dr. Adrienne Richwine, Richwine Applied Kinesiology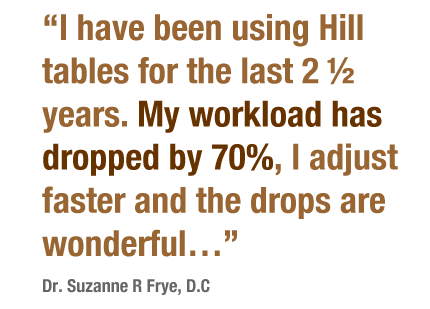 I am happy to report that our newly designed laser surgery tables look and, more importantly, "feel" fantastic.
Dr. David B. Vasily, M.D.
---
Just wanted to let you know how much I appreciate my Air-Flex table and Hands Free Ultrasound unit. I've been getting AMAZING results with patients and I am thrilled to have such competent and well made equipment.
Dr. John Slippy, D.C.
---
The quality of my new Anatomotor is truly magnificent. My only disappointment is that I didn't get one sooner!
Dr. Peter Gent, D.O.
---
Patients with chronic and acute pain have experienced relief that I have never seen with any other [Ultrasound] modality. I want to thank you for your research and ingenuity and hope that you will continue to explore new and more useful modalities for physical therapy patients
Linda Brink, P.T.A.
---
Thank you so much for the Hill Air Flexion tables. I have searched for the
perfect table. What a relief to be satisfied.
Dr. Cathy Gratkowski, D.C.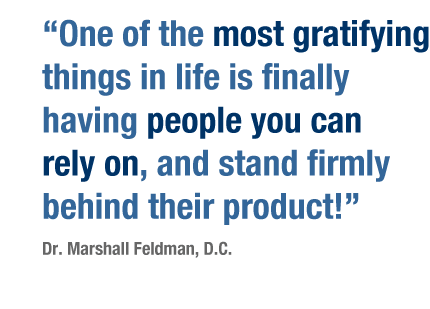 Thank you for making a wonderful table that I enjoy using every day, and for the quick and helpful customer service. Your staff has been truly great…
David Mulholland, D.C., C.C.S.P., D.A.B.I
---
After receiving the Hands-Free Ultrasound, we immediately had positive results. We are quite please with this machine and we are already thinking of getting a second one!
Bruce S. Morrison, D.O. and Staff
---
I had no idea that Hill Laboratories was a family business and that you have quite a history regarding your tables and our chiropractic profession. I just received my table a few days ago and I must say that it is a beautiful table! I feel that you have the very best chiropractic tables available today!
G.L. Tapper, D.C.
---
The tables are a joy to work with – far superior to the Zeniths.
Dr. Barry Merchant, D.C.
---
I wanted to thank you for the Hands-Free Ultrasound unit. I am getting great
results with patients and it allows us to increase out patient load.
Dr. Christine A. Peugh, D.C.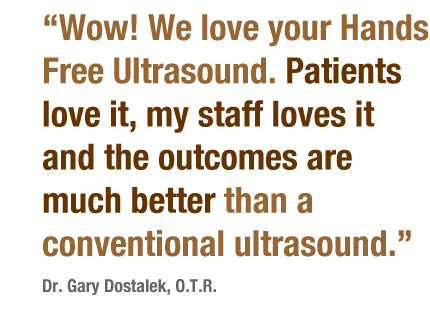 I wanted to write and say thank you for the assistance you provided me, from the initial purchase with approval, to the installation today of my new Hill Laboratories Air-Flex adjustment table. I would not hesitate to refer you to my chiropractic colleagues.
Dr. Steven J. Meacham, D.C.
---
Thank you for your patience and the opportunity to own 2 Hill tables that have mad an incredible difference in my practice of Chiropractic and Wholistic Health.
Dr. Nicholas John All, D.C.
---
I have waited for twelve years before buying my "Dream Table" and you truly helped in that. I have a lot of respect for your company now, and I will not hesitate to recommend you to my peers. The table works great!
Dr. Laura A. Belmar
---
I wanted to thank you for personally delivering my new table and repairing my current table…great personalized customer service!
Dr. Mike Kirk, D.C.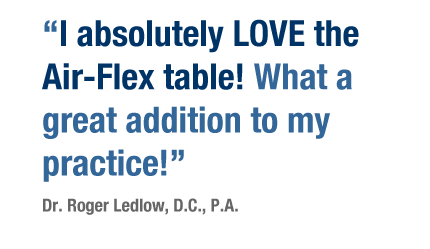 I highly recommend the Hands-Free Ultrasound unit to any doctor who wants to handle the difficult cases of severe low back and pelvic injuries.
Michael A. Simone, B.A., D.C.
---
Your product has made a positive impact on my practice.
Dr. James Raker, D.C.
---
Wow! I am really happy with my new Hill Laboratories Air-Flex. All of the special customizing we did for the table came out great. I am definitely a HAPPY CAMPER.
Dr. Charles A. Munday, D.C.
---
I write to commend you on the excellence of your traction table. It's nice to find a table both well constructed, reliable and effective.
Dr. Calvin Hargis, D.A.B.C.O.
---
In 20 plus years of practice, I have never benefited more from the use of any piece of equipment. Thank you for making my practice separate and distinct with the Hill Air-Flex.
James Louro, D.C.