Hill Deluxe AFT Automatic Flexion Table with Complete Set of Auto Air Drops
The Deluxe Automatic Flexion Table is perfect for doctors who want full-featured automatic flexion and complete air drop table without the need for manual flexion (for manual, see Hill Air-Flex). The Deluxe AFT is one of our most versatile models featuring variable speed flexion, electric adjustable height and an impressive list of standard features including four pneumatic auto drops and air controlled thoracic breakaway. View the options below and click to build the ideal AFT for you in the Notebook section to the right.
Deluxe AFT Automatic Flexion Table
Starting at 10895.00 € Excl TAX
Variable speed motorized flexion
Removable tiller bar at foot-end
Air activated cervical, thoracic, lumbar and pelvic drops
Air cushioned thoracic breakaway and thoracic release
Tilting headpiece, 30° negative and positive tilt
Pelvic section has lateral flexion and can be locked at any angle up to 21°
Slide-out ankle support with ankle harnesses
Adjustable patient gripper bar
Two Power Foot Strips (Controls Drops)
Patient shut-off switch
Height electrically controlled with dual rocker foot pedals
Width 60 cm / Height 54 to 74 cm or 57 to 76cm
Medium density foam (soft or firm on request)
Choice of 20 vinyl colors for the top
Beige or gray acrylic thermo-plastic base
One-year warranty on all parts (repair in return workshop)


*Would you prefer a
Manual Drop AFT
instead?
Click Here
set up your table
Click and open the sections below and choose the options you need
choose your options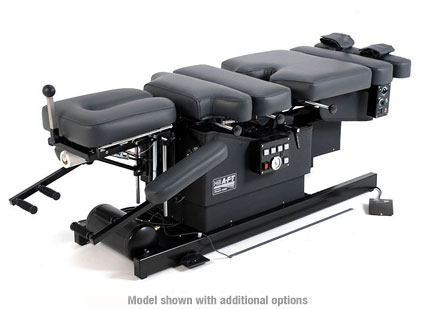 AFT vs. Air-Flex
Click to Compare
SLIDING AXIAL MOTION HEADPIECE
"NOW INCLUDED ON STANDARD MODEL"
simulate your quote

* Prices shown are international shipping, import duties and customs duties included
*Prices are excluding VAT 20% effective in addition.
*The simulated price shown does not include delivery to your office.
*The indicated prices are subject to the fluctuation of the Dollar and the Euro, you must ask a confirmation of estimate and it must be sent to you.
*Order taking is subject to the terms and conditions of sale
* The additional costs linked to import costs and / or the additional costs linked to air transport will be directly attributable to the price of the goods.
Send your request, we confirm your quote delivery costs included in your office