Hill DNFT Chiropractic Table for Directional Non-Force technique
The Hill DNFT Table is specially designed for use with Directional Non-Force Technique including reactive leg reflex, or D.N.F.T. leg measuring. The Hill DNFT has many standard features (see below) It is also equipped with an Autotouch foot pedal which will raise the table to the maximum height AND lower the table to the minimum height when tapped once. Operators may stop the table at any point in the travel cycle.
Hill Adjustable DNFT
Starting at 3955.00 € Excl TAX
Variable height from 56 to 90cm
Auto Touch foot pedal
Tilting headpiece
33cm extended Face-Cut out into Thoracic Cushion with Insert Filler
Slide-out ankle support extends 30cm; adjusts in height 20cm
Measurements - 173cm - 200cm long; 60cm wide
Arm rests
Paper-roll bracket
6.5cm medium-density foam top; head cushion with soft foam
Choice of 20 vinyl colors for the top
Beige, Grey or Black base with acrylic thermo-plastic cover
One-year warranty on all parts (repair in return workshop)

set up your table
Click and open the sections below and choose the options you need
choose your options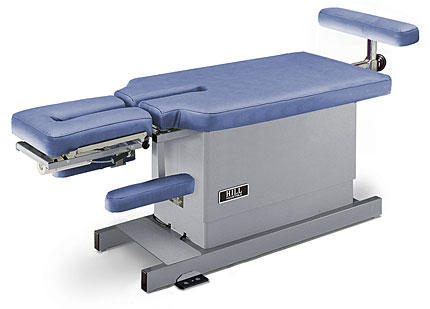 simulate your quote

* Prices shown are international shipping, import duties and customs duties included
*Prices are excluding VAT 20% effective in addition.
*The simulated price shown does not include delivery to your office.
*The indicated prices are subject to the fluctuation of the Dollar and the Euro, you must ask a confirmation of estimate and it must be sent to you.
*Order taking is subject to the terms and conditions of sale
* The additional costs linked to import costs and / or the additional costs linked to air transport will be directly attributable to the price of the goods.
Send your request, we confirm your quote delivery costs included in your office