Hill Anatomotor Roller Massage
optional: Lumbar Traction, Cervical Traction and Variable Speed
The Anatomotor has been a trusted leader among traction-massage treatment tables for nearly 60 years. Amazingly versatile, the Anatomotor is designed for soft-tissue massage, intermittent and constant traction, heat and vibration.
The Anatomotor has a moving top on which the patient glides back and forth just under the normal respiration rate. Two sets of adjustable-height massage rollers straddle the spine and rhythmically loosen taut muscles. This deep-kneading massage effectively prepares the patient for traction which actually separates the spinal vertebrae.
With the Hill Traction Control Unit, traction is created as the gliding top pulls against the controlled resistance of the traction unit. Traction force is regulated between 0 and 200 pounds and can be applied in several different forms from cervical (with the Hill Cervical Device / no pressure on the chin) to full lumbar-sacral traction using the traction harnesses. Therapists may treat with constant or intermittent traction.
The Anatomotor is also ideal for applying passive range of motion to arms, shoulders and legs. Available with optional heat, vibration and unique leg rollers which massage the calves and thighs to relax muscles and increase circulation.
Anatomotor Roller & Traction Table M200
Starting at 3695.00 € Excl TAX
Semi-pneumatic back rollers
Leg rollers and rubber foot pad
Timer, filler block (insert), top pad and two-section pillow
Fixed Height from 56 to 81cm / Width 54cm
Choice of 20 vinyl colors
One-year warranty on all parts (repair in return workshop)

---
---
set up your table
Click and open the sections below and choose the options you need
choose your options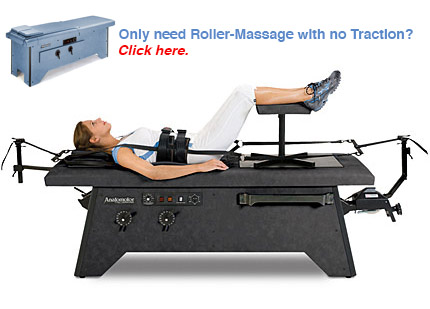 simulate your quote

* Prices shown are international shipping, import duties and customs duties included
*Prices are excluding VAT 20% effective in addition.
*The simulated price shown does not include delivery to your office.
*The indicated prices are subject to the fluctuation of the Dollar and the Euro, you must ask a confirmation of estimate and it must be sent to you.
*Order taking is subject to the terms and conditions of sale
* The additional costs linked to import costs and / or the additional costs linked to air transport will be directly attributable to the price of the goods.
Send your request, we confirm your quote delivery costs included in your office